Benefits of Combo Roofing System
Combo Roof has many benefits for both the main contractor and the end home user as well, these are a few examples of the main benefits
Multi-Layer System that includes both Waterproofing & Thermal Insulation
25 Years Guarantee
Huge saving in cooling energy consumption
Roof terrazzo tiles are not required
Single submittal and approval for the full system
Time efficiency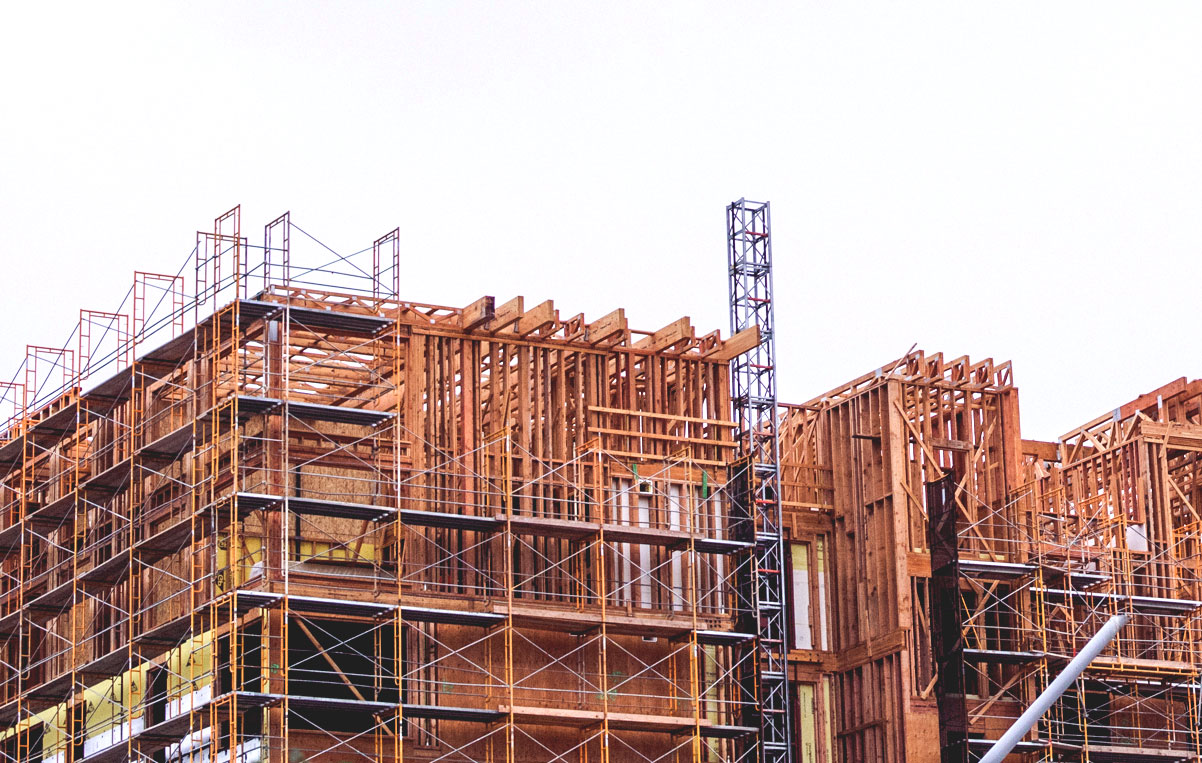 Call For a Quote:
(050) 4477980
Why Combo Roofing System?

Water & Thermal Insulation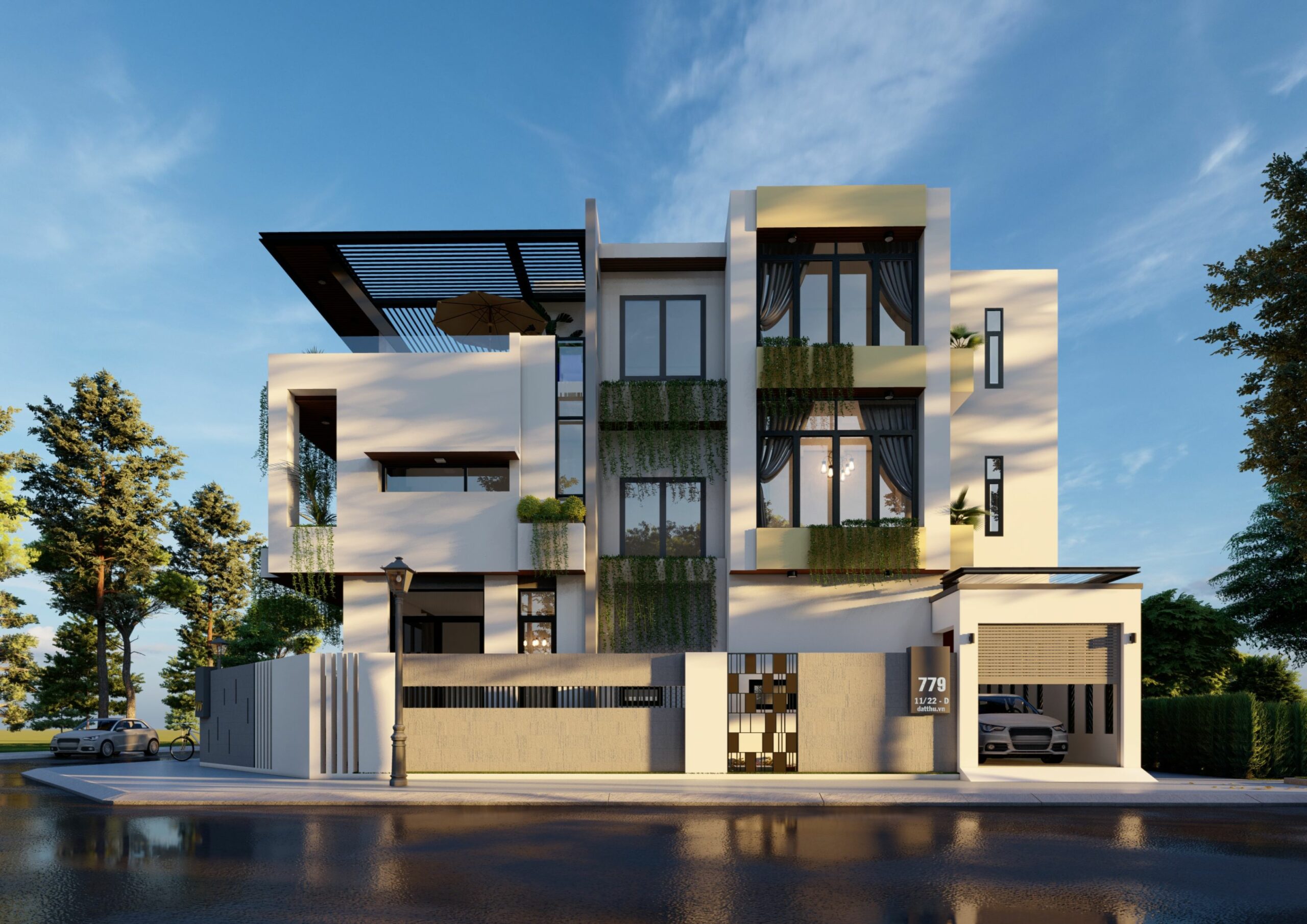 The strength and integrity of the roof could have a significant impact on the building's lifespan.
The design of the roofing system, the caliber of the workmanship, and the quality of the material all affect how well a roof performs over the long haul.
Excellent insulation is required in the Middle East due to the extreme heat to reduce energy waste. This is exactly what the YABROOD Combo Roofing System achieves while saving over 40% of energy.
It also offers perfect waterproofing, making it the best system in terms of both efficiency and cost, YABROOD has made a commitment to finding cutting-edge engineering solutions in the construction sector for pressing issues like water leakage, concrete repair, and leaking structures.
What is a Combo Roof System?
It's a comprehensive and complete Combo Roof System that includes Waterproofing layers, Thermal Insulation, and roof finishing as well.
Benefits of Combo Roof Systems
This roofing system offers a guarantee for 25 years against any leakage. This system also meets all the latest thermal insulation standards and regulations in UAE as per Estidama requirements. It is also approved by all major consultants, contractors and property developers.
Why choose Yabrood as your Combo Roof contractor?
The most important part of having a good roofing system is workmanship and professional application, it's even more important than materials themselves. With our 41 years of professional experience, our main goal is to keep our customers' buildings protected.
We focus on our workmanship and quality control, and we care for all the small details in all aspects of our work, whether in roof inspection, installation or maintenance and repairs, to ensure always having the highest rates of customer satisfaction.
Combo Roof Application
Site Preparation & Cleaning
Polyurethane Foam Spray Application
Liquid Waterproofing Coating
Flood Testing the Roof
Separation Protection Layer
Screed Panelling
Screed Laying
Angle Fillet
Expansion Joints Treatment
Finishing & UV Protection Coating
Premier Quality Combo Roof Waterproofing by Yabrood
A combo waterproofing system is an advanced, hi-tech solution aimed at protecting the properties and homes from water leakage problems and extreme heat. This system comprises of waterproofing, thermal insulation and high-end finishing for the roof. The 3 in 1 solution for all your roof problems is an advanced fast curing method approved and used by the leading property developers, construction consultants and builders in the UAE.
Show/Hide

Yabrood is a leading solution provider based in Dubai that is renowned for providing efficient, reliable and superior quality combo roof waterproofing systems to an extensive clientele across the UAE region. Our clients are comprised of many major enterprises, corporations, facilities and luxury residential properties and buildings in the UAE. With a large number of successful projects and a reputation for providing high quality solutions and services, we offer assurance for international standard regulatory services and roofing systems.

Acquire a Reliable Combo Roof Waterproofing System

A combo roof waterproofing system is a certified PU foam with a joint free system and is fully attached to the roof slab. This not only gives a perfect finish to your rooftop, but also facilitates anti leakage and thermal insulation properties. With an extensive manufacturer's guarantee, the combo roof waterproofing system that we offer meets all the regulatory standards of the UAE and is the top choice for property consultants and construction workers in Dubai.

At Yabrood, we put special emphasis on quality, durability and innovation. Using the latest technology and methodologies, we develop systems that are not only seamless and premier quality but high value as well.

We Offer Sustainable Solutions at Market Competitive Prices

In addition to industrial grade solutions for real estate property development, we also offer time efficient and cost effective services such as maintenance and installation and prompt deliveries in the shortest turnaround time. Moreover, we also aim to deliver these products and services at flexible payment terms and affordable prices.

Why Is Combo Roof Waterproofing Essential?

A combo roof waterproofing system is essential for the simple reason that is a comprehensive solution that covers not just waterproofing, but thermal insulation and finishing for the roof as well. A combo roof system guarantees the safety of your roof against any and all elements that can cause its deterioration.

What benefits does a combo waterproofing system have to offer?

There are multiple benefits that a combo roofing system in UAE has to offer. These are inclusive of:

Roof tiles installation not required
Extensive load bearing capacity
25 years guarantee
Easy maintenance and repairs
Joint-free insulation
Multilayer waterproofing
Better insulation leads to lower electricity consumption

If you wish to reap the advantages of installing a combo roof system UAE, then get in touch with us at Yabrood right now. We hold expertise in the installation of combo waterproofing Dubai systems and can help you with it in a timely and efficient manner.

Get in Touch With Us Today

For further details and enquiries, feel free to contact us right away!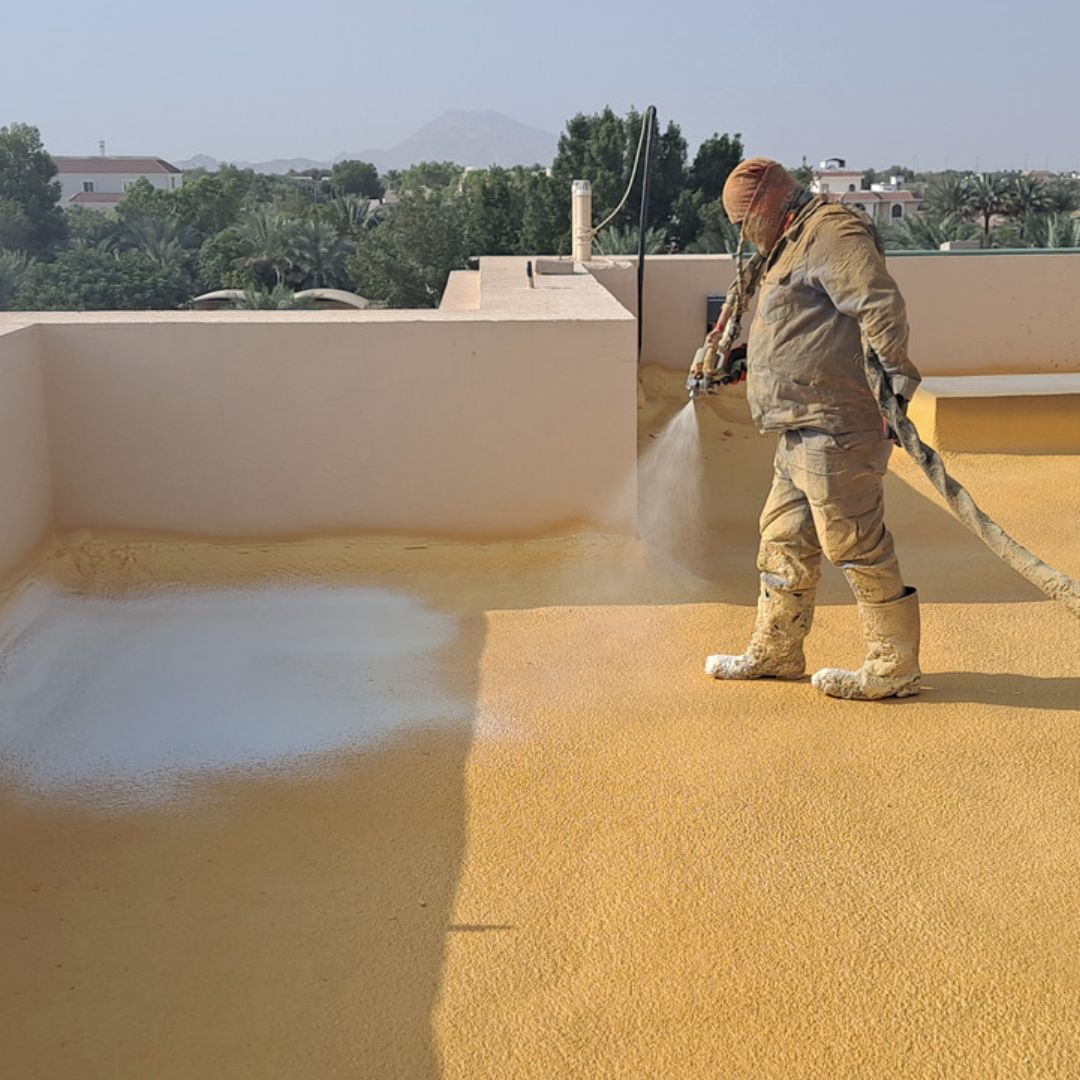 The spraying movement will only begin after the final inspection. A combination of Polyurethane materials, such as Polyol and Iso PMDI, is applied to the prepared surface using a Spray Foam Machine. Before achieving a thickness, spraying will be done in level or vertical layers. Polyurethane foam with a density of 45 kg/m3 is sprayed on the cleaned rooftop slab, finding its way into the tightest cracks and edges and sealing them. It takes 30 seconds for the foam to solidify and shape a defensive protection and waterproofing layer. To achieve the desired thickness, the foam is sprayed in layers of 10-15 mm thickness.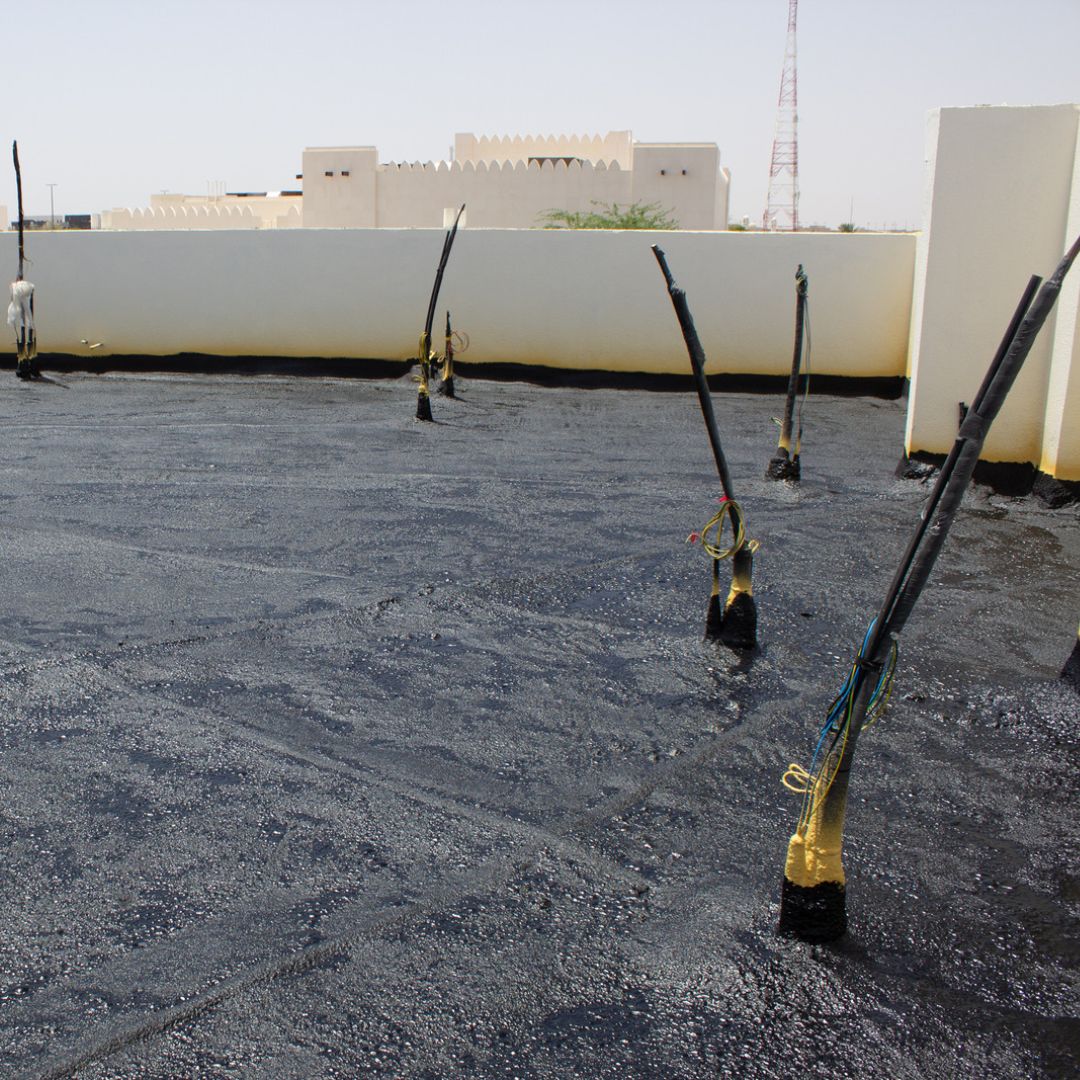 Following the application of the polyurethane foam, a single-segment acrylic-based high adaptable elastomeric water-confirmation covering RBE is applied to the entire surface of the polyurethane foam. Allow at least 8 hours for the protective covering to dry, depending on the site conditions. To protect the Polyurethane from harmful UV radiation, a layer of 600-800 Microns of fluid Compact UV Protective Coating is applied to an endless supply of PU foam application.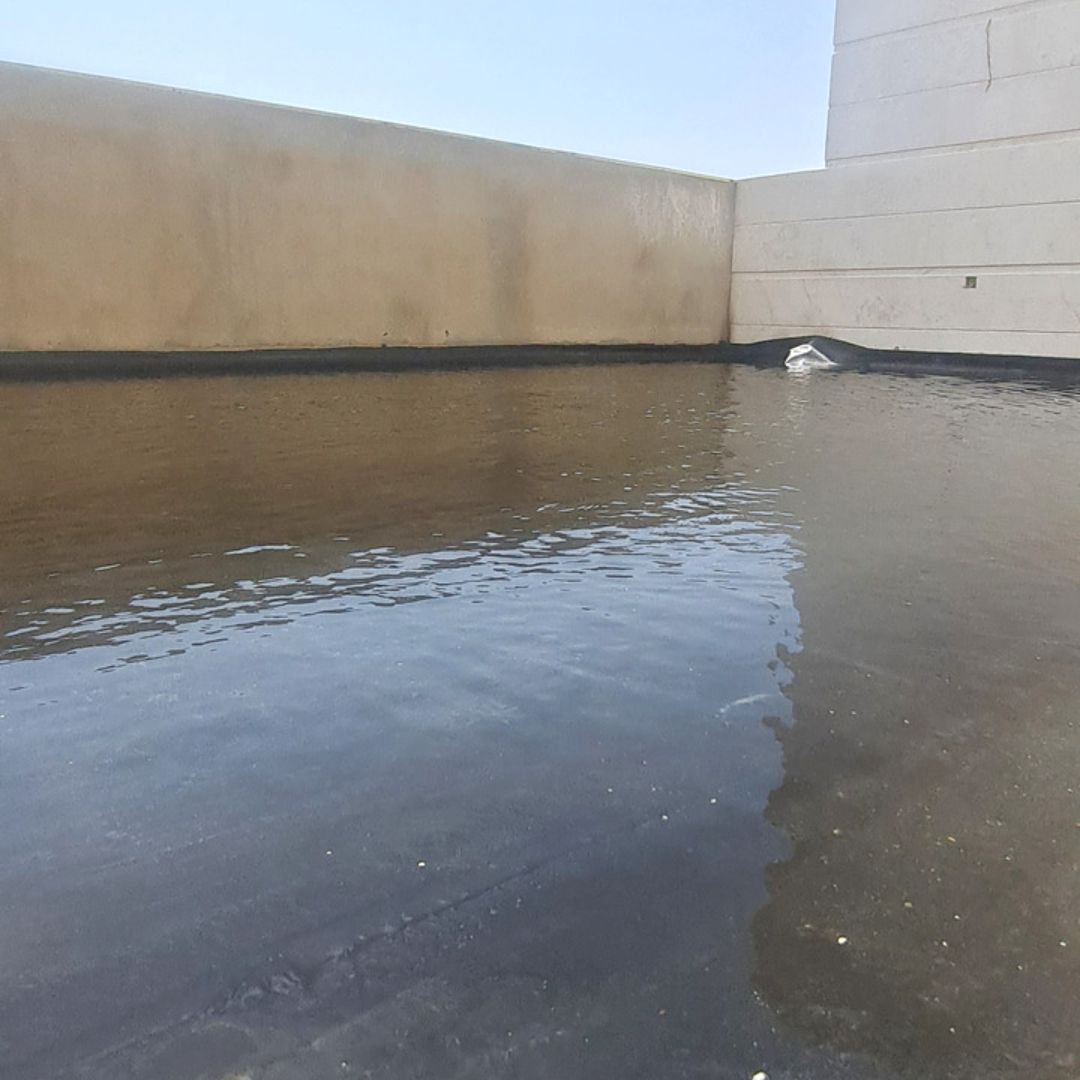 After the UV covering has dried (at least 24 hours), a flood test is performed with a water depth of 5-6 cm for 48 hours to ensure no leakage is present in the framework. When the UV covering has completely dried, our engineer will visit the site to inspect the completed work and provide clearance for a flood test (at least 24 hours).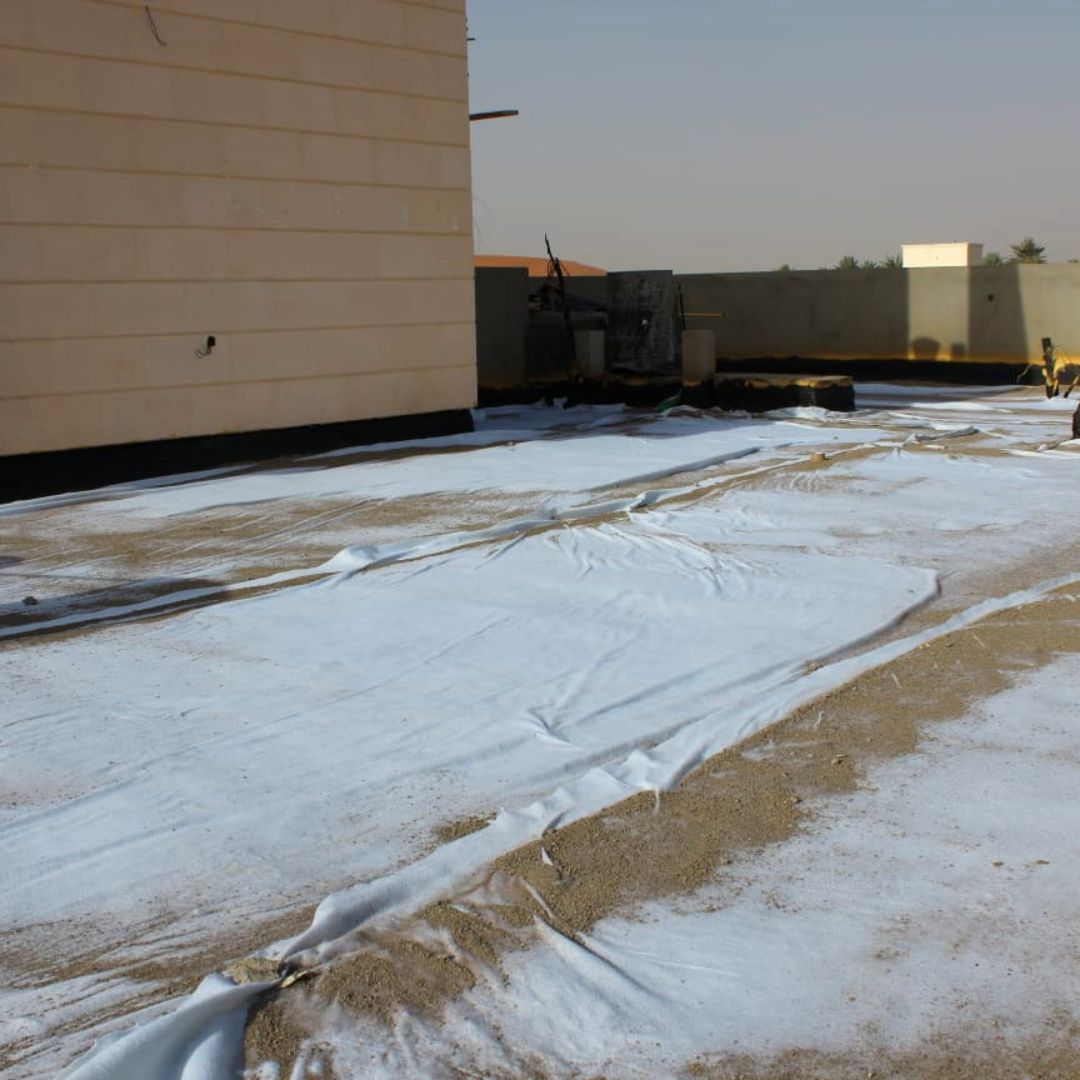 After an effective test, water will be taken out and one layer of geotextile will be approximately laid at a cover of 20 – 30 cm. The geotextile will be reached out up to the vertical surface of the recently applied framework.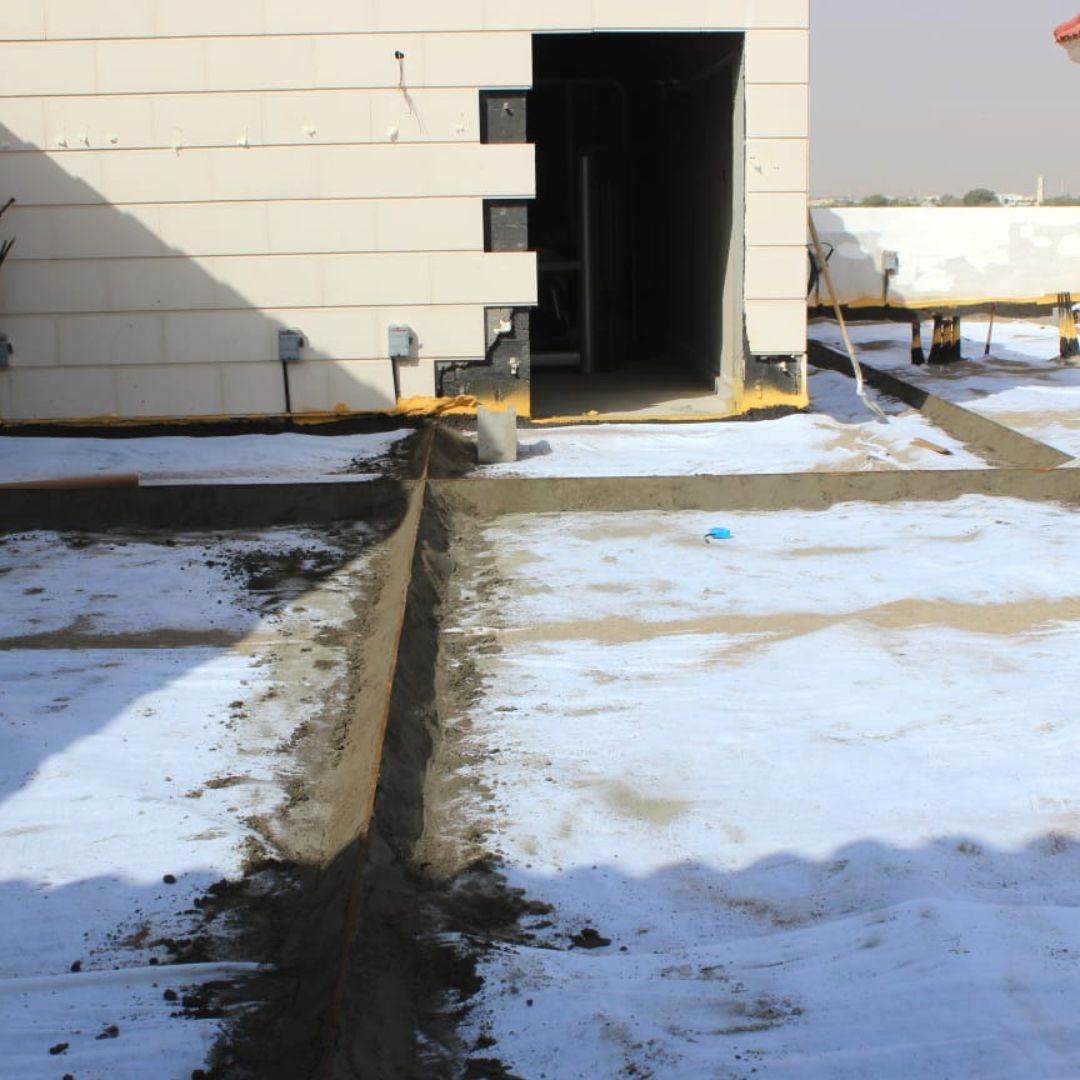 Following geotextile, the rooftop is divided into 3m X 3m sections using Compact Flexy Board to provide incline and development joints. We advise our valued customers to install a Rain Water Outlet every 100 m2. The rooftop will be compartmented to rectangular or square shape at 6m2 (max) using a 12mm thick flexcell board and an endless supply of Geotextile. The flexcell board changes the ideal slope. To keep the flexcell Board vertical, sand concrete mortar will be used to secure it to the geotextile.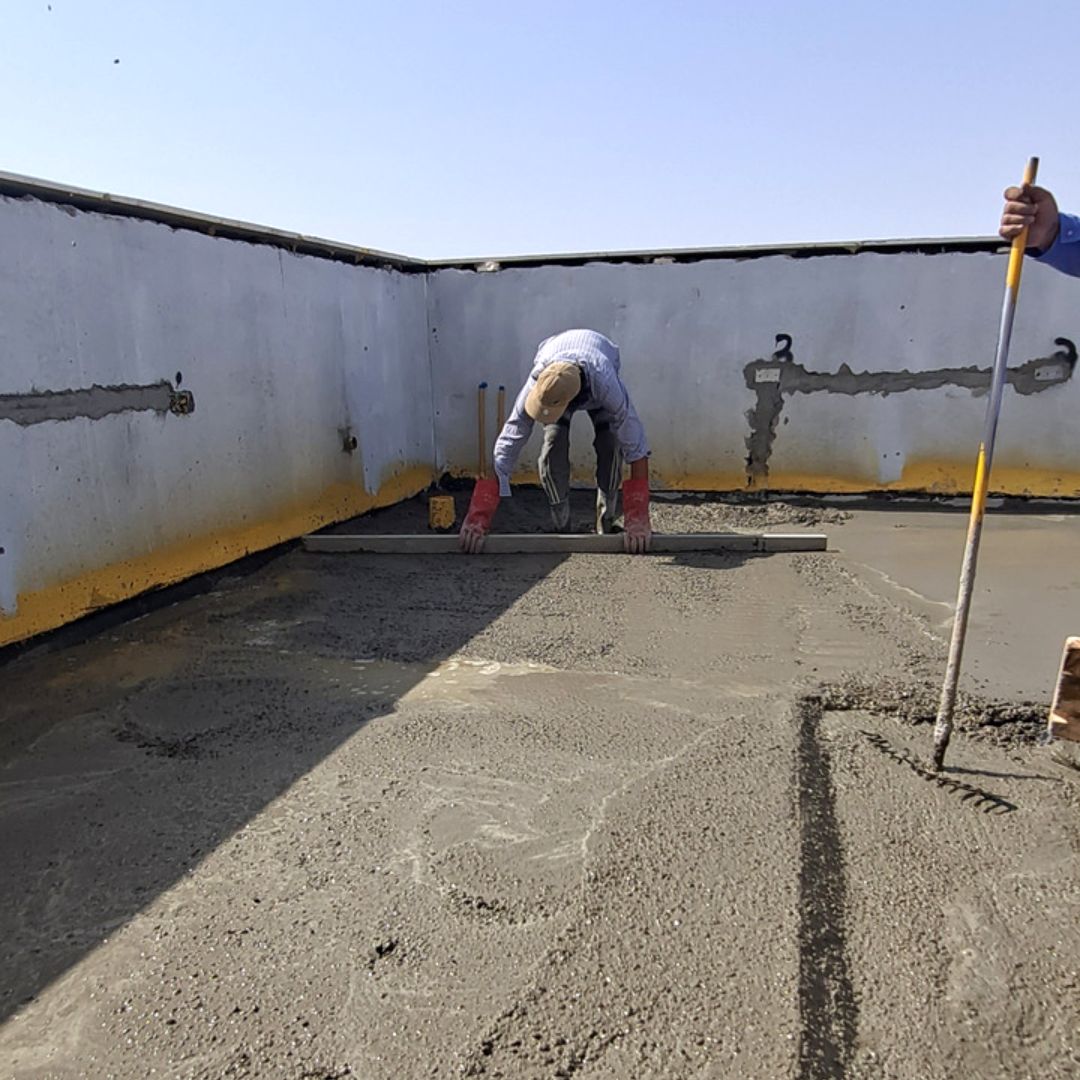 Once the Ridges are completed, our skilled masons will lay and level the screen to provide the perfect slope for a perfectly finished roof. To provide the best protection and minimal cracks, the screed is 20N/mm2, 250 OPC, 0.6 Kg/m3 Fiber-reinforced screed concrete. Following the paneling work, a protective screed with a strength of 20 N/mm2 will be laid in panels with an average screed thickness of 80mm. The screed will be finished smoothly and cured for two days (minimum).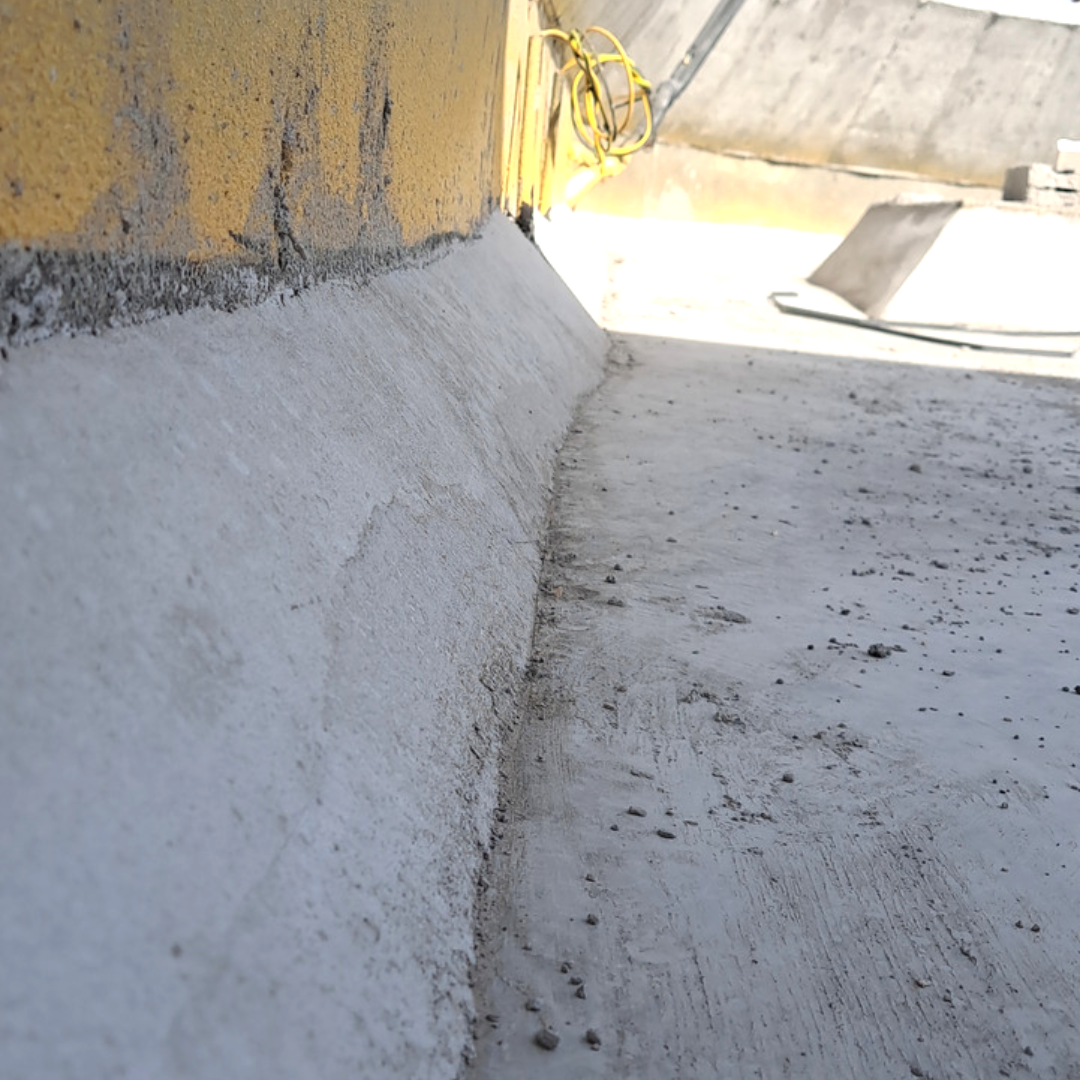 After the screed has completely cured, all of the joints created by the flex cell board will be opened and threatened with ACT sealant with a 20 mm diameter backing rod to accommodate concrete movement. Then, around the parapet skirting and concrete foundations, cut an angle fillet (100x100mm).
The roof skirting is protected with mortar to give the roof a finished look while also protecting the system underneath. This is accomplished in four layers.
Self-flashing polyurethane edges
Mortar gives shape and strength
Fabric reinforcement on the mortar with a bonding agent to prevent cracks
Acrylic Coating to provide a final layer of protection to the roof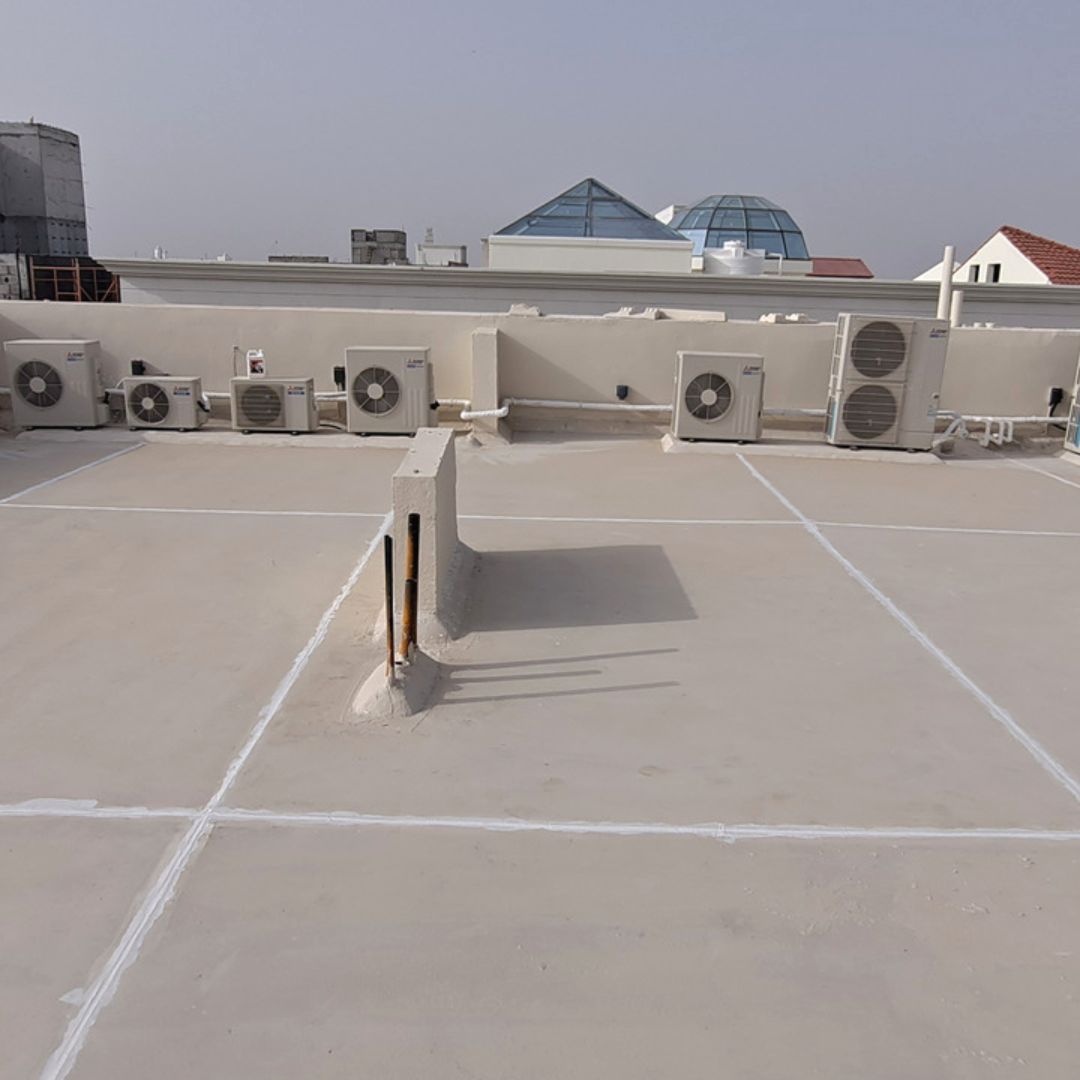 Once the screed has set, Compact Flexy board is cut from the top, a backing rod is installed, and sealant is applied to seal the expansion joints, giving your roof the best protection against leaks.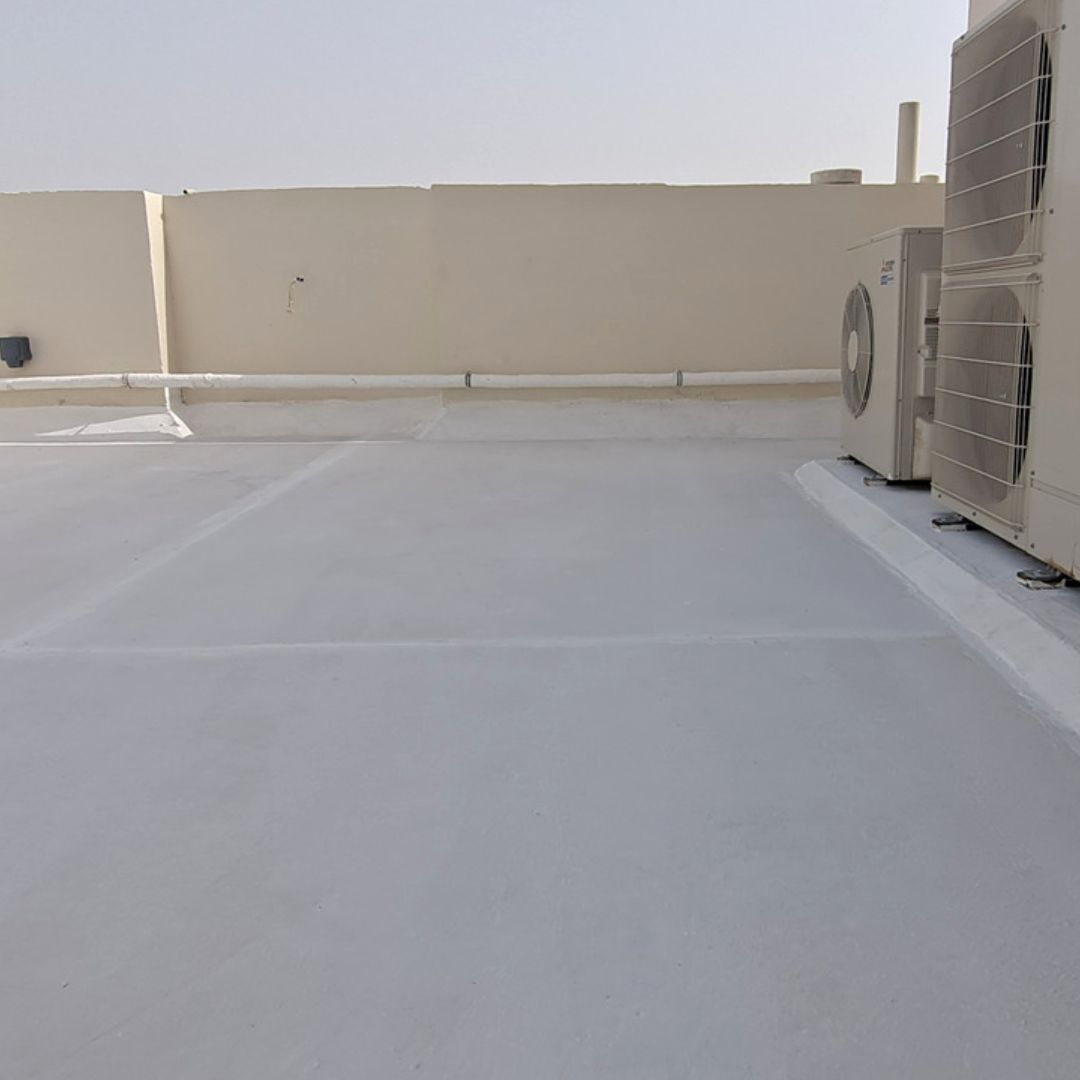 Saturate the concrete surface with clean water after finishing the joint treatment, curing the applied angle fillet, and cast screed. To avoid dampness of the substrate, two coats of cementitious coating Polyflex (White) will be applied above the surface. Before allowing any traffic on the roof, the final coat will be allowed to fully cure for 7 days. The roof will look nice with the topcoat on it.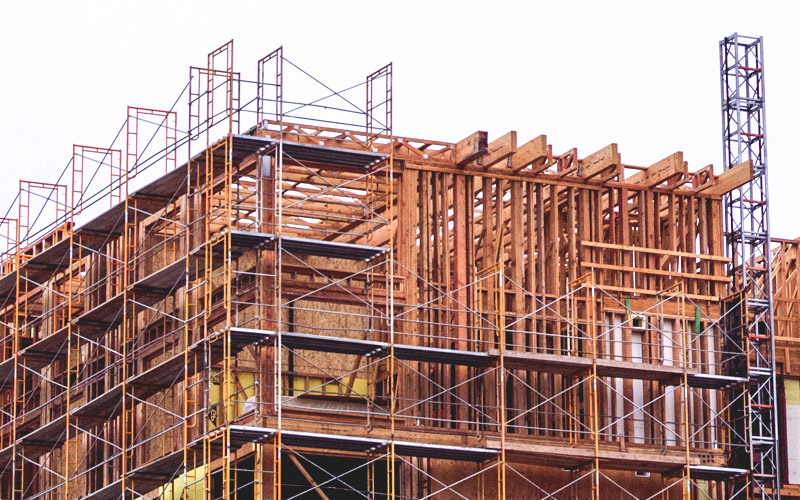 Combo Max Roofing System
The newly updated and upgraded version of the Combo Roof that comes even with better layers and more benefits.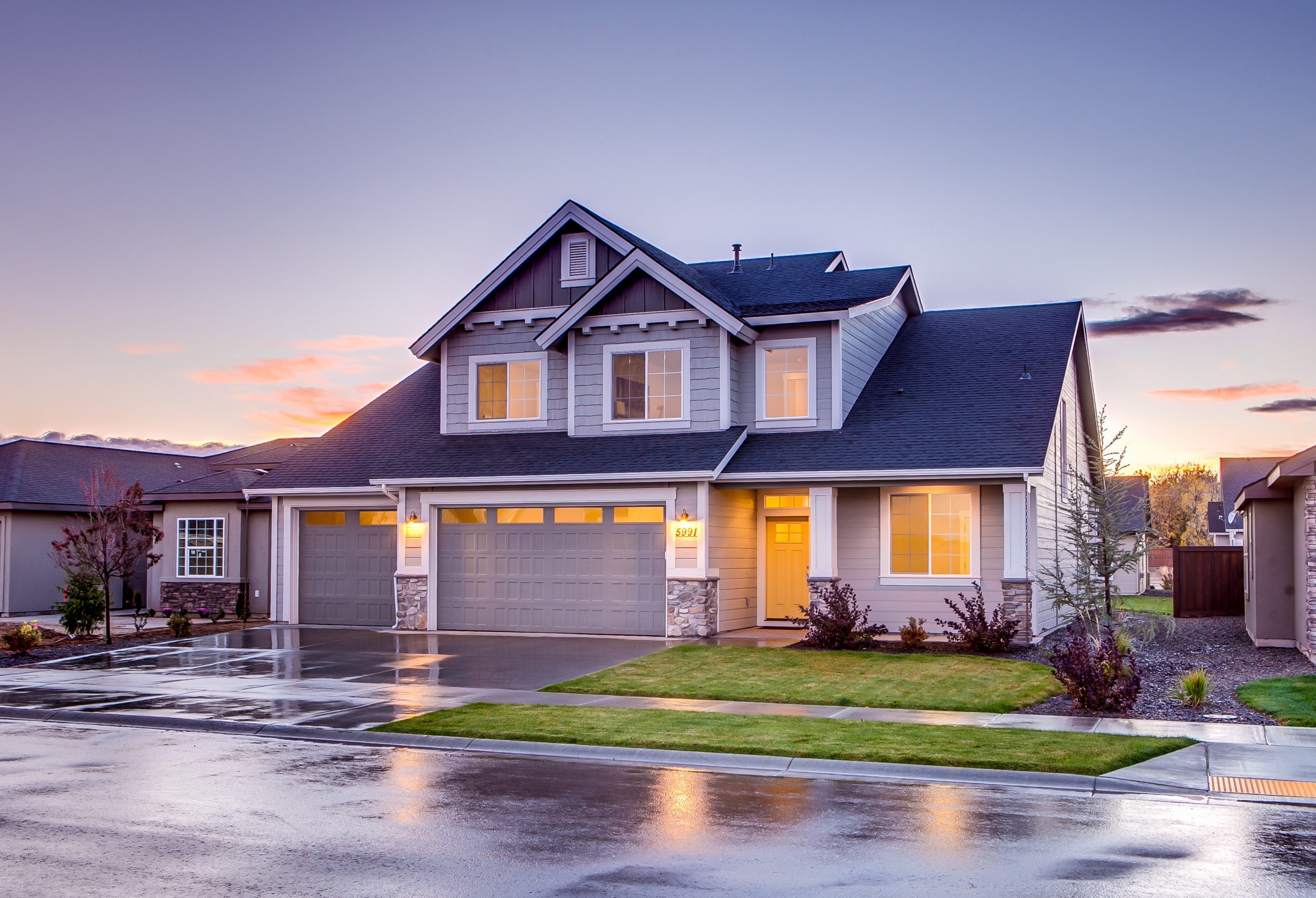 Roof Max Roofing System
The ultimate and extreme roofing system that comes with all the benefits you can imagine with a lifetime guarantee.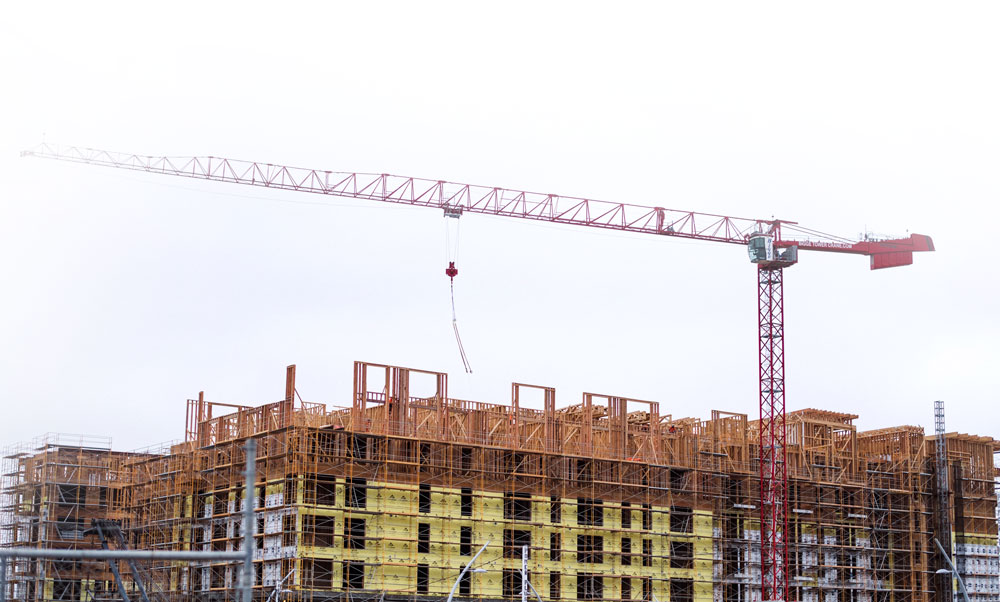 Original Roofing System
The traditional roofing system that was implemented and tested in the UAE for the last 40 years.
If you have any questions please do not hesitate to contact us, we are happy to help!
How Long Have You Been In Business?
Yabrood Waterproofing was first established in 1981, and since then we have been doing waterproofing services for more than 40 years.
Are you fully licensed and registered?
Our Company is fully registered and licensed in Abu Dhabi with the Department of Economic Development, Abu Dhabi Chamber, and Abu Dhabi Business Center, and in Dubai with Government of Dubai and Dubai Economy.
Are you implementing all Covid-19 precautionary measures?
Yes for sure.
All our labours and staff managers are vaccinated, and PCR tested for Covid-19 once every two weeks as per the circular issued by Abu Dhabi Department of Economic in March 2021.
What kind of warranty do you offer?
For all our projects, we will provide you with a written copy of our warranty upon the completion of our work, and also retains a copy on file in our system. If you would like to view a sample copy of our warranty, you may do so by contacting us.
Do you have a permanent physical location?
Our Main Head Office is located in Al Ain city center area, and our second office is located in Dubai Downtown, and our camp is located in Al Ain Mezyed area which includes our store and labour accomodation.
In what cities in UAE are you operating?
We are working mainly in Abu Dhabi, Dubai, Al Ain, Sharjah, and Ajman. For other projects in northern emirates please contact us.